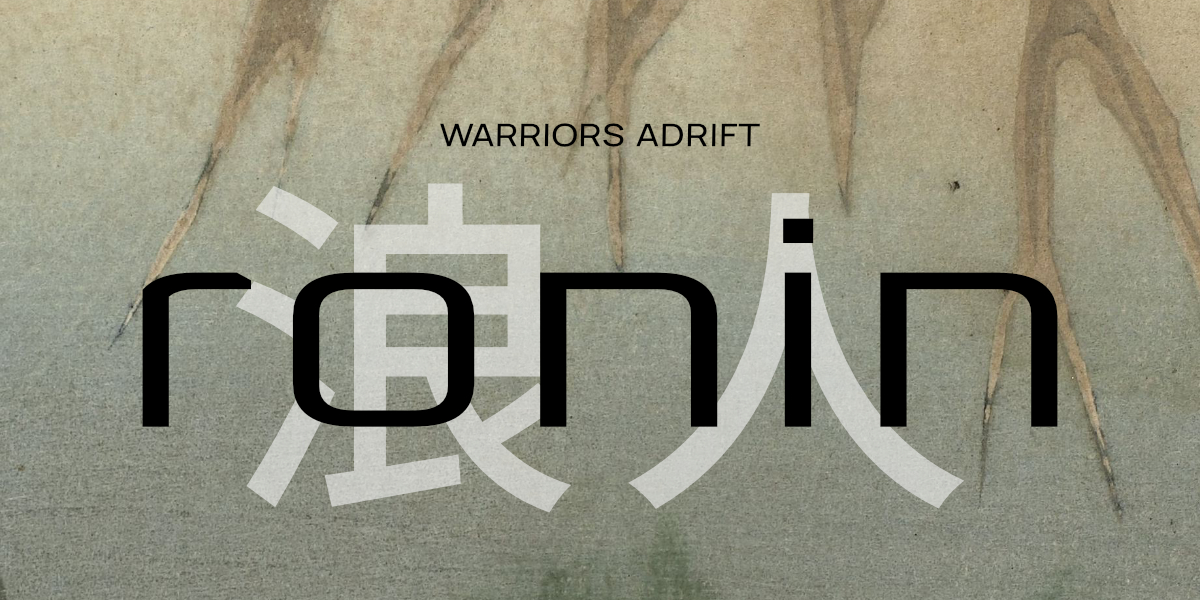 RONIN
"RONIN" is an honour-bound warrior playset for the PARAGON system. You will need a copy of AGON to play this game. Learn more at agon-rpg.com

Premise
You, samurai, have lost your master. They might have died without an heir, they might have been assassinated or you might have killed them. Whatever their end, you are still here. Rather than taking your own life, as people believe a loyal warrior should, you've chosen to live on as a ronin.
As swords for hire, you walk the earth. You strive to keep to the warriors code, called Bushido, and gather honour to your name. One day, you hope to find peace and erase the shame cast upon you. Will you find a new life, will you forever wander, or will you die a warriors death trying?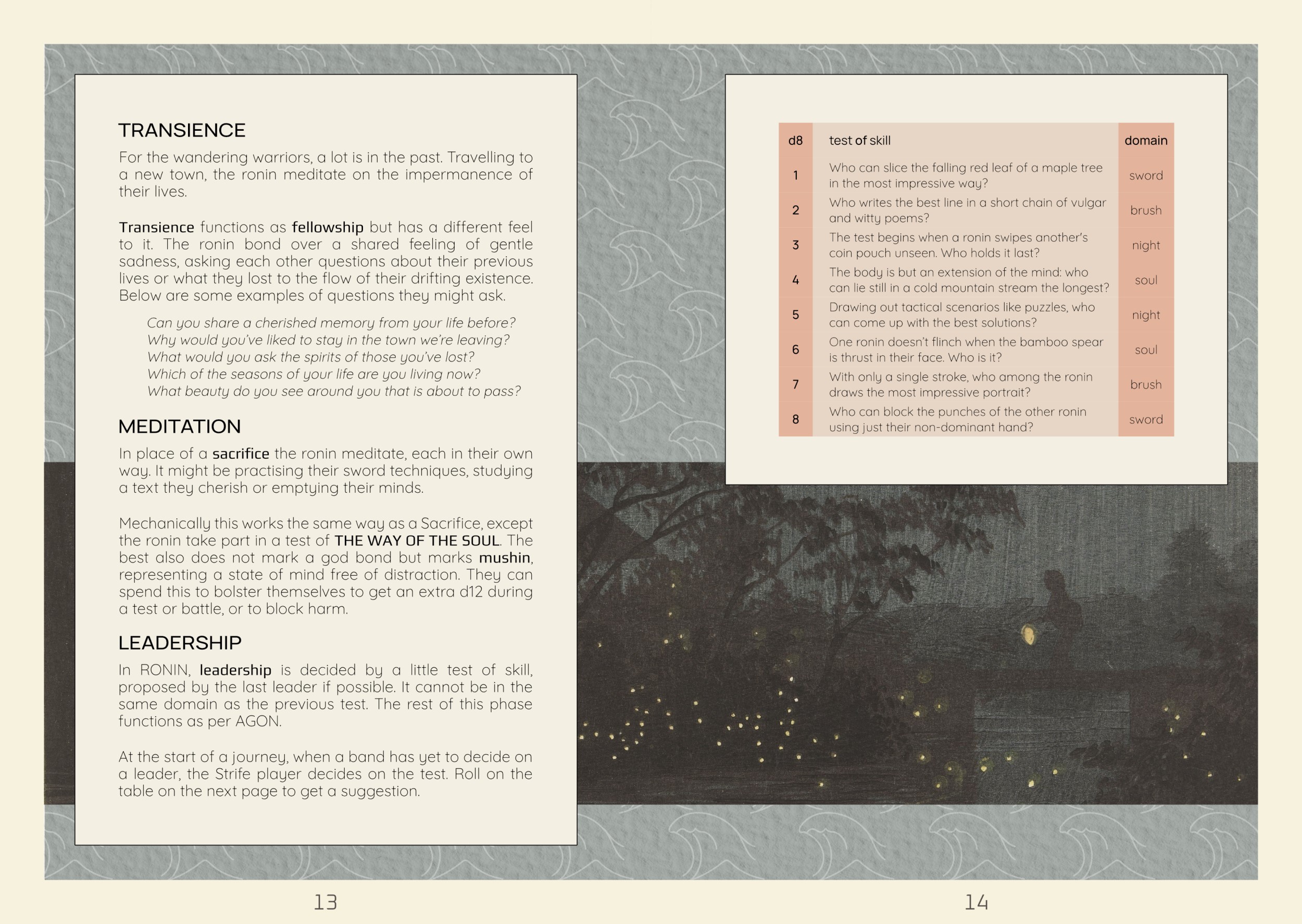 What is new in RONIN
RONIN is an honour-bound warrior playset for the PARAGON system. It contains rules for a game about a band of virtuous warrious, drifting from town to town.

On their way they will strive to do the virtuous thing in their encounters with various factions, from powerful lords to seasoned farmers and from refined courts to mysterious spirits. Striving to create a new life for themselves, they will act honourably in the hope of earning respect and erasing the burden of their shame.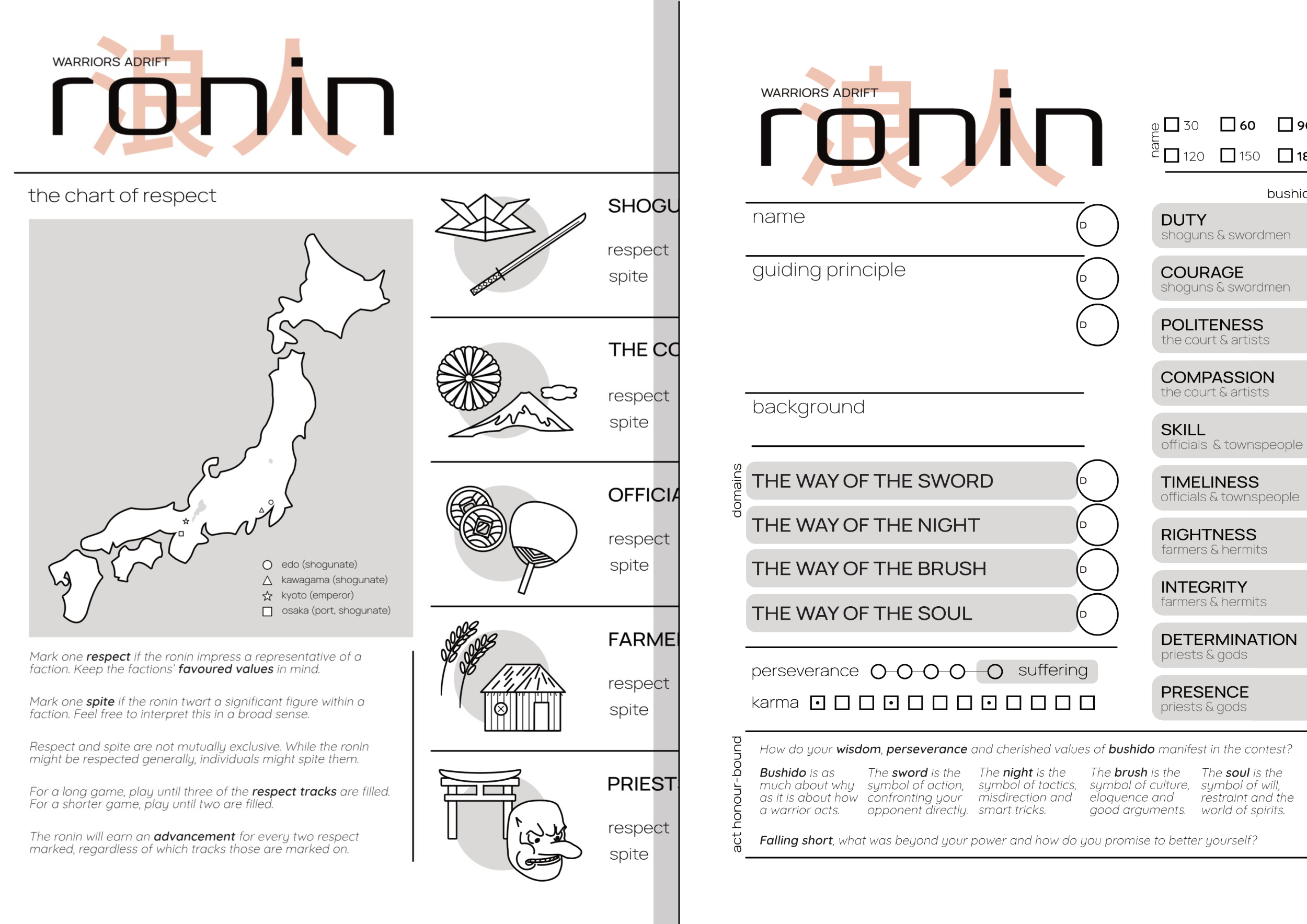 RONIN provides new material for guiding principles, the values of bushido, shame and finding peace among five factions, and it adapts various aspects of AGONs ruleset to better fit the world of ronin. Play anything from a Kurosawa-movie to a brooding anime saga of swords and samurai. Gather honour to your name, act like a true warrior and find peace.
Adventures for wandering warriors
In the following months I will update my collection of adventures for RONIN. Every town can be incorporated into an ongoing campaign or played as stand-alone adventure:

RONIN is completely playable but also a project in development. I will keep updating it, trying to make it better every time.

Purchase
In order to download this playset you must purchase it at or above the minimum price of 4.00€ EUR. You will get access to the following files:
Ronin_Play_set_spreads_v0.7.1.1.pdf
21 MB
Ronin_Play_set_sheets_player&strife_v0.7.1.pdf
477 kB
Exclusive content
Support this playset at or above a special price point to receive something exclusive.
COMMUNITY COPIES
Each euro spent on RONIN provides a free community copy to this pool.
If for whatever reason you don't have the ability to pay for this playset, please claim a community copy. Take a moment to rate the game if you can!